Police are now out by an apartment building owned by SiB, the student organization, checking out a bomb.
Apparently someone found a suspicious object attached to the maroon car in the picture. All the students have been evacuated to one room in the building while police are checking it out.
One resident says it looks like a shoe box with wires sticking out - he says it looks more like a prank than anything.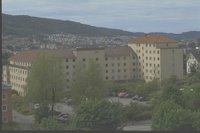 Police says it could be someone put the 'bomb' there to be funny but they take these things seriously and if there's a chance it's real, they will check it out.
Yeah right, they're just jealous because of all the attention we got after the fire they decided to do their own thing...


[Edit] The car the 'bomb' was attached to was owned by a student living in the building. He saw the article on the net and called the police, explaining he had dressed up as a suicide bomber for Halloween and had forgot to remove the box from his car.

Police then removed it and the problem was solved.


Told you it was only for the attention...