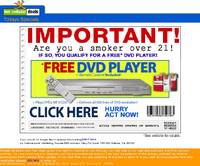 That is the lowest of the lowest of the LOWEST!
Now you're offering rewards for being a smoker?
Wait... maybe the reward is if you stop smoking?
Little positive thinking here...
I click the link to check out my theory.
Then I get this:
Because of your geographic location we are unable to process your request at this time.
You are being redirected to a site that better suits your needs.
Being Norwegian hurts sometimes... They send me the ads but they never want to give me the stuff.. *sigh*.
Then I've been redirected. And I get this:
Dream of being a millionaire? Earn more money sitting at home!
I read a few lines and their rhetoric sucks. I'd give you the link but I'd rather not promote their business.
What
is
this? They're all so eager for us all to kill ourselves? People, smokers all over the world, please,
please
don't fall for things like this. It's hard to stop but what does it really give you? And what might it cause instead?